Nominations are open for the
2022 John Penn Citizen Award
through February 14
The John Penn Citizen of the Year Award was created to recognize a Granville County citizen(s) for outstanding service to our community. The citizen must reside in Granville County.  Download a NOMINATION FORM and mail to the  Chamber Office at 124 Hillsboro Street, Oxford.
Mark Pace named 2021 John Penn Citizen of the Year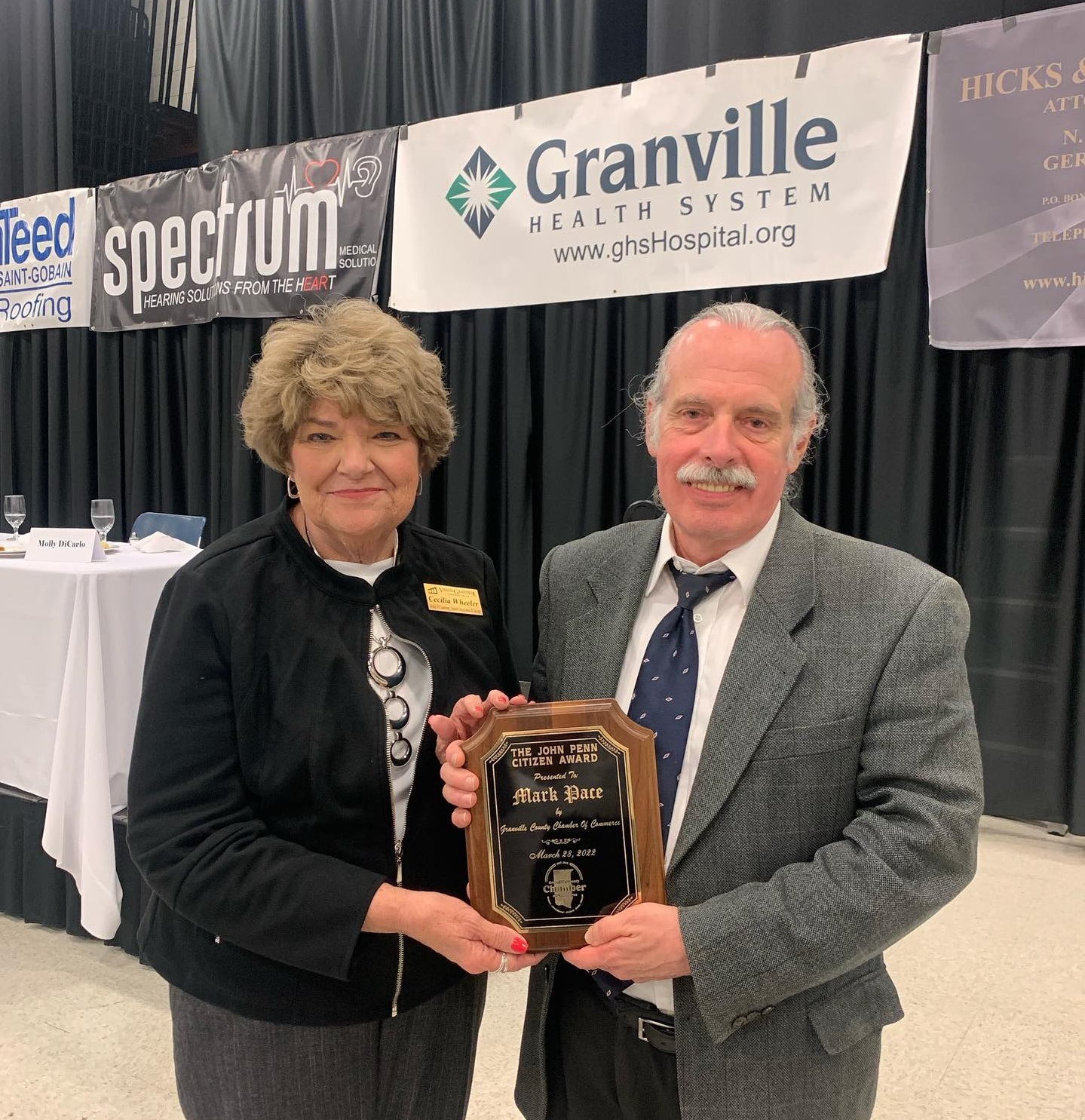 Mark Pace was named the 2021 John Penn Citizen of the Year at the chamber's 2022 Annual Membership Meeting & Banquet.  Annette Myers, 2018 recipient, recognized Mark at the banquet and Cecilia Wheeler, outgoing board president, is pictured at left with Mark.
The Outstanding Citizen Award or Citizen of the Year award was presented in years past. In 1996, the committee created a new name for the award to honor Granville County's first and perhaps most outstanding citizen. Since then, it has been presented as the JOHN PENN CITIZEN OF THE YEAR AWARD in honor of our Granville County citizen who was one of North Carolina's signers of the Declaration of Independence. On January 10, 1936, the very first state highway marker was erected. That first marker was placed in the town of Stovall to commemorate the life of this political leader and signer of the Declaration of Independence – John Penn, a native of Granville County.
This prestigious award recognizes individuals whose volunteer service has made a tremendous impact on the county. 
Past Recipients of the John Penn Award
L. C. Adcock
Gary L. Bowman
Dr. Joseph Colson
Hubert L. Cox
Jim Crawford
Johnsie C. Cunningham
Hugh Currin, Sr.
Nancy W. Darden
Leonard M. Dunn
Carlene Fletcher
Stan Fox
Laura Seifert Gable
Hubert Gooch
Dr. John B. Hardy, Jr.
Boyce Harvey
Rev. G. C. Hawley
Robinette Husketh
Mildred A. Jenkins
Tom Johnson
Paul Kiesow
Doan and Bette Laursen
James and Mary Ann Lumpkins
John D. Mackie
J. Medford
Dr. Jimmie V. Morris
Annette Myers
John King Nelms
Dr. Roy Noblin
Dr. David Noel
Leonard Peace, Sr.
Gladys Satterwhite
Harold Sherman
Rev. Harrison Simons
Tom Speed
Marshall Tanner
Dr. and Mrs. Richard Taylor
Steve Timberlake
Virginia Tuck
Xavier L. Wortham
L. Clement Yancey